Whether you are a New Jersey builder looking to fulfill code compliance requirements, or a homeowner wanting to ensure the tightest duct installation in your new home, our Duct Leakage Testing service is for you.
–
Total Energy Service is BPI trained and certified to test, repair and issue the reports necessary to have your HVAC construction project approved with your Building Department.  We perform Duct Leakage Testing in all of New Jersey.
Some studies indicate that up to 30% of heated/cooled air is lost through duct leakage, along with the money spent to heat or cool that air.  Leaky supply ducts do not deliver heated/cooled air where needed, while leaky return ducts will only add load to your HVAC system. Additionally, leaky return ducts reduce the quality of the air in your home, as they pull in air from uncontrolled spaces, causing humidity and/or contaminant problems.
Total Energy Service's Duct Leakage Testing will insure that your ductwork is properly sized, installed, and sealed, thus making your heating and cooling systems significantly more efficient while conserving energy.  Additionally, efficient ductwork will improve the comfort of your family, your indoor air quality and save you on your heating and cooling costs.
Our Duct Leakage Testing will locate any leaks and/or damaged ducts so we can concentrate repair work in the correct areas.  If our Duct Leakage Testing indicates that you have a duct leakage that is not acceptable, your ducts will be sealed, repaired, or replaced as necessary. The duct leakage threshold was  set by the October 2005 Title 24 Building Code, which requires duct leakage to be reduced by 15% of the pre-work leakage found.
The following pictures show how we perform our Duct Leakage Testing.
Bill Dondiego, our Duct Leakage Testing Technician, is a BPI and LEED certified professional who can assess your ducts for leakage and overall efficiency.  He has been in the construction and energy efficiency business for over 20 years, with Green Building certifications from Rutgers, as well as Building Performance Institute certifications in Building Analyst, Envelope and Whole House Air Sealing Specialties.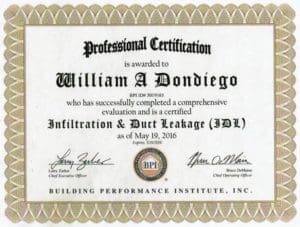 Contact Bill Dondiego to learn more about arranging a Duct Leakage Test.  Bill can be reached on his mobile at 908-208-3865, at our office at 908-526-3133, or via email at [email protected].
The following videos below go into greater detail of our Duct Leakage Testing process.
Call Total Energy Service today to perform your Duct Leakage Testing to insure that your duct work is properly sized, installed, and sealed.  We offer our Duct Leakage Testing service to all of New Jersey.